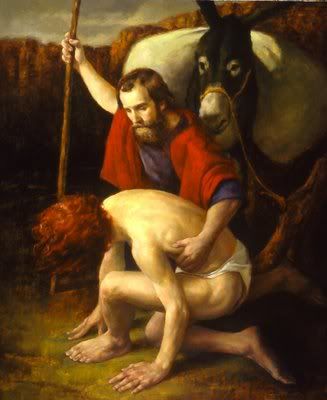 The story of the
Good Samaritan
was one that always stuck with me in childhood.
How could someone leave a hurting man on the side of the road?
And of course:
I would never do that.
But as I get older, I realize that I am just as guilty of leaving people in need on the side of the road. How easy it is to get caught up in busy schedules, to where we are oblivious to those in need. I am guilty of putting "good things" before "great things". I bristle at
interruptions
. I bristle at the person God puts on my heart to minister to.
I have a busy life myself.
I am guilty of putting priorities in the wrong place.
Nothing on our agenda is reason enough to ignore the voice of God when He tells us to stop and help. 
What is the purpose of slowing down? For me, it is what 
Aimee
shared:
Real, meaningful, nurturing relationships. 
Slowing down enough to see what the Lord wants from us, because "His burden is light."

How can you "slow"? So that you can hear that "still, small voice"? So that you can be led appropriately? So you do not ignore that what the Lord has called you to do?