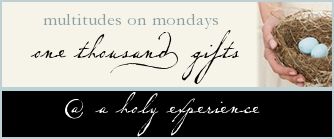 #32: our body telling us when we are sick
#33: mama-instinct: my boy is not getting better
#34: a smart pediatrician
#35: affordable antibiotics
#36: Husband being able to take off work for 2 days as we figure out what is wrong with my son.
#37: phone calls, texts, emails from concerned friends
#38: the power of prayer. Being able to go to the THRONE with our requests.
#39: Echo-Cardiogram: being able to see my son's heart! So amazing!
#40: my son's braveness in getting through many, many blood tests..
#41: seeing the white blood count and CRP numbers go down.
#42: ruling out a possible diagnosis that would be scary
#43: a stronger antibiotic to take away the bacteria in his body
#44: seeing my son's symptoms get better!
#45: being able to comfort and nurture him
#46: getting through two weeks of uncertainty and stress with a measure of peace I would not have had without prayer.
#47: husband taking on an active role in my son's health. (usually I am the one pushing for care. it was nice to have him take over.)
#48: a son who is healthy.