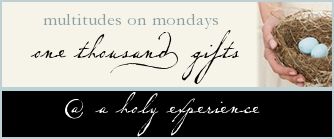 I'm a rebel. I'm doing "Multitudes on Mondays" on a Thursday. It just works better for me. You understand, don't you
Ann
? *smile*
#16
Jewels
updated her blog!!! Bliss.
#17. and her life-giving, truth-telling words that are a balm for my soul every time I read:

On my mind... These simple words "It's never the wrong time to call on Toad. Early of late he's always the same fellow. Always good-tempered, always glad to see you, always sorry when you go!"~~-Kenneth Graham. I've spent some treasured and memorable time the past couple of weekends, each with a different family of very dear friends, and have spent many of the moments in-between-times pondering the idea and out-workings of friendship (that leaves you with the no-other-quite-like-it feeling of having been

friended

), what it is and how and why. What makes a friendship special and why it would be so.

Seems, a friend likes you just as you are, and enjoys you, because of (without a doubt who they are as well as) who you are. A friend, is sincerely glad to see you or hear you, and lights up at the sight of you or the sound of your voice making your/or it's way, his or her way. A friend knows you--beyond superficial (by degrees and ever longs to know you more), because they listen to you and hear you, and thoughtfully respond to you by turns, in return.

A friend graciously and non

judgementally

knows what you meant to say even though you may not have said it well, though only the best that you could. A friend, takes what you offer--the good and the not so good--and sifts it all through their greater and sensitive understanding of you overall, and their heart of love, covering you, believing in you, desiring God's very best for you and for yours in every single way. A friend, makes sacrifices of their time and

giftings

, as best and as often as able--who they are and what they have, and finds joy in return simply in the doing so. The tip of the iceberg of my

ponderings

. How very grateful I am for the love and shared lives of my friends (among whom are many of you, and for this I thank you, far more than just thank-you).


It's so wonderful to know there are others out there who think and ponder about real friendship and take it very seriously and appreciate it as a gift from God.




#18. A warm house to endure the snowstorm/ice storm.




#19. My 18 month old telling me "Of you." (Love you.)




#20 Green smoothies. I'm drinking them every day the month of February.
** Haha!! My friend Natalie just told me it is Wednesday!! Well, you all know what I mean! It's been one of those weeks!